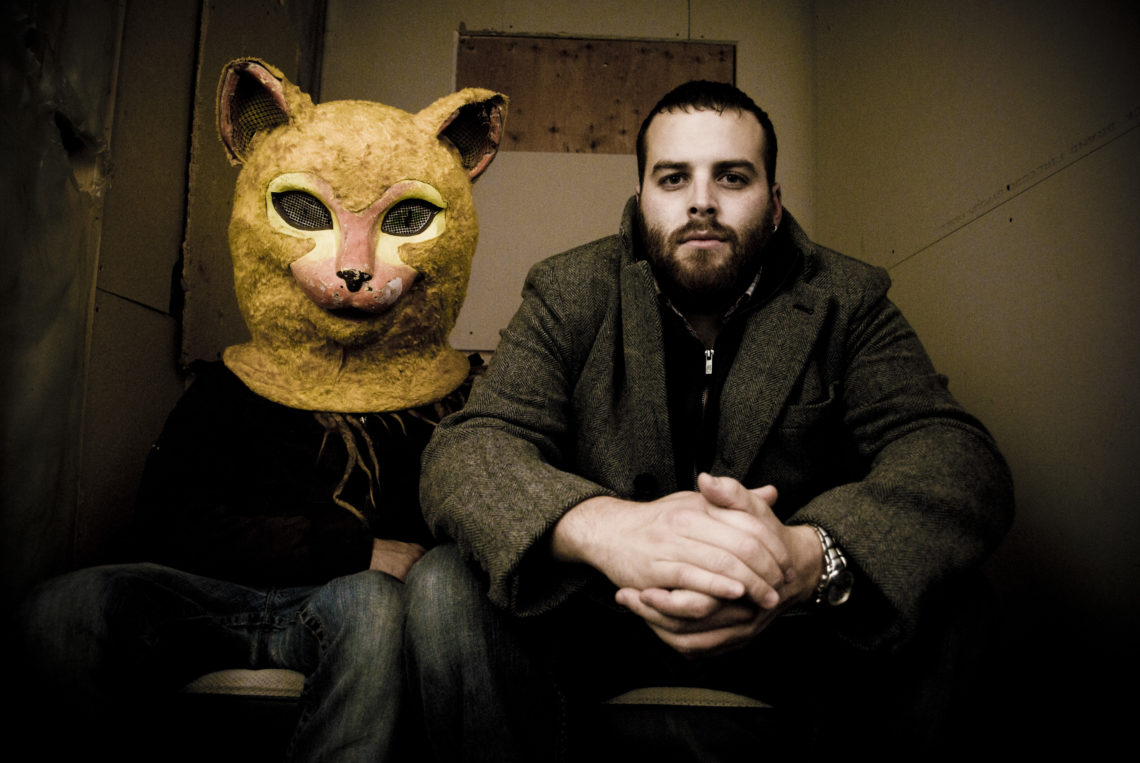 Q&A with Christopher Arruda
So you're in a live music venue and you see an artist up there doing their thing and you think, 'Hey, they're really, really great!' and they are truly, really, really great.   But then another night you walk into a venue and you see Christopher Arruda up there on stage with his soul pouring out of his sweat, and that's when you think 'Shit.  This guy's got what everyone else is missing.'
Christopher Arruda Q&A
I've been listening to your lyrics and CDs and I've watched you live and I noticed that you really don't hold back do you?
Well when people come see me, they're just gonna get me, and it's not going to be for everybody but I leave it all out there. I just want people to feel what I feel, and it's just kind of a venue for me to express what happens and it's the only thing I know how to do so that's kinda just how it is. The lyrics are just me. Writing lyrics like that is important to me and that's the most validating thing about it. When I was younger I tried to hold back but the people that I idolize, people that make me feel a certain way, don't really hold back either. It's kinda been a strange evolution, but I feel like that's just the way to be.
You recently released an EP which you produced and recorded on your own. What inspired you to do the EP, and why all on your own?
Well 'God Hates a Coward' (my first album) is a really big, perfect sounding record. Like everything is really well produced and there's no mistakes, vocal problems, sync issues or anything out of tune you know. And I've listened to other music that was just like created in peoples bedrooms and living rooms with just garbage equipment and I was just struck by how visceral and unreal and beautiful and like honest it sounded. And I was just going through some turmoil, I had written 6 or 7 songs that all just kinda shared the same theme and they were so different from anything I'd ever written before. They were very unconventional and I really wanted to release them because I felt like they needed to have a home. So I just thought 'shit I'm just gonna do this', like I'm not an engineer but I've been doing my own demos for a long time, I'm just gonna do it until it sounds right with me and then have my friend master it and I'll put it out.
I noticed that you played with some new vocal stylings on the new record, singing in a falsetto for example, which gives the music a whole new feel, do you plan to continue in that direction?
I feel like I need to take some of the more accessible sounds from 'God Hates a Coward' and then kinda blend in a little bit of the unconventional nature of some of those other songs and just kinda mesh it into a nice ball of love and then release that into the world. A few of them will be rerecorded on the next record but some of them I don't want to ever think about or sing again.
Really? Why not?
There's a certain sadness that comes when you realize that you're writing different songs about the same thing three years later and I, you know, it's um.. I guess I'm happy with how some of the songs turned out but they're not easy for me to play. If that makes any sense.
Of course, but you said earlier that you don't know how to be any different in terms of going on stage and baring it all, so isn't that a part of your show? You've said these are really good songs and they're really effective.. so why not play them?
Honestly that is something that I have considered, like I've decided that the songs are good enough to go on the next record and I want to do that but it's just a struggle because sometimes you just don't want to feel like that. But I'm happy how they sound on the demo record and I have ideas for them that are really going to push them somewhere else that I'm gonna be even happier about I think.
Why do you do what you, what drives you to pursue this career?
I very frequently don't feel comfortable in my own skin and music is the only time that I actually feel like I'm doing anything. When I'm writing music, and playing music, it's the only time I ever actually feel okay. And that's for real, like other things make me happy but I don't think that there's anything else that I'm meant to do
Do you ever have moments where you lose what's driving you?
I guess if I had to say what crushes me sometimes is looking at how much farther I have to go. Realizing how much I still have to learn and how daunting that task is. When I'm confronted by that, I have to look at it and go, I can either be really morose about this and be like 'oh this is never going to work out' but I can either do that, or I can just do what I've been doing all year and be like 'screw it, I'm just gonna keep going'.
What's the least favourite thing you've had to do to get where you are?
Working full time. Trying to take time off to do these things has been so hard. For me to do the PPP boot camp and to do all the showcases and rehearse with a band that I have to pay.. it's just been so hard for me. My job requires a lot of concentration and effort and I also have this other thing (music) that's obviously very close to my heart and very important to me.. it's been really, really hard.
Well have you thought about how it would be possible to just.. simply.. make money doing.. you know.. music?
I would love to! There's like moments of utter euphoria when I think like 'hey you know maybe I'll get something licensed and like get a few grand so I can live off that for a couple months and just make a go of it. I've totally thought about that and right now I'm always thinking about how I can make myself more useful to music so I can find other ways to draw background income like being a session player for example. When I was younger, I'm not gonna lie, like I wanted to be a Rock Star and I wanted to ,you know, get the tour bus and get all the women.. but my dream now, like if I could make like 55 grand a year playing music, sign me up. I just want to make a living. I don't need to be a rich man. I've learned that's not what makes me happy.
And it seems with the downfall of record sales that music is like that now, that it's just one of many professions, it's a business that you start and build up and is not necessarily about the glam or getting rich anymore. Do you think that's good or bad? Is it easier or harder to be a musician today?
I think today it's absolutely easier now to do what you want to do, and that's why there's so many musicians now and so much awesome music out there. But to get into a position where you're making a comfortable living, now that's definitely harder. With forums and online radio it's really easy for people to find what they're going to dig but the chances of that artist being financially well off as a result of you listening to them is less than ever. And It's true labels aren't making money on record sales anymore so they're not looking for people to develop. Someone at the Peak Performance Project Boot Camp was talking exactly about this. Labels now are looking for people to partner with who already have a viable commodity.
So what else would you say that you've learned from participating in the Peak Performance Project?
Um, business. There's so much business stuff I wasn't aware of. I was doing things the wrong way for a long time and I've realized that there's a right way and a wrong way of doing things. But more than anything it was a real attitude adjustment and sometimes it just takes someone tapping you on the shoulder and saying 'Hey man you can do this, like you're good' and I didn't really believe that and now I believe it a little bit more. I had given up music up until less than a year ago and I never thought I'd want to tour again and all I want to do now is tour, I never thought I would want to write music again, all I wanna do is write music. And it's the right thing you know, it's what I've always needed to do and it's what I truly believe I'm here to do. So it's been life changing, it's been unreal.
Favourite kind of pie?
I have to go with Lemon Meringue. I know Adaline said it but I love it too. But only with a little bit of meringue, not those like 6 inch meringues that you don't even know how to get into.
—
Kelowna might be a bit of a drive, but definitely worth it for the Breakout West Festival happening Oct. 21-23. Thursday Oct. 21 will feature all of the PPP performers at various venues in downtown Kelowna. Wrist bands are only $20 and they get you access to 70 bands. If you're a musician wanting to learn all about the industry and make connections, you'll definitely want to check out the conference happening all weekend. Get all the details and full festival schedule at www.breakoutwest.com. See you there.
The Nitty Gritty on Christopher Arruda
Shameless Promotion:
• Vote for Christopher Arruda in the Peak Performance Project at www.p3.fm
•Catch him live in Kelowna Thurs Oct 21 at the Streaming Café as part of the PPP showcase at the Breakout West Festival www.breakoutwest.com
Where to Listen:
• 100.5 The Peak FM, Eagle 97.3 in Courtney, CHLY & 106.9 The Wolf in Nanaimo, 92.5 The X in Kamloops, 89.7 Sun Fm in Duncan.
Where to Buy:
Itunes, *CDBaby; *=buy here first because artist makes the most money
On the Web:
• christopherarruda.com, twitter.com/arrudamusic, youtube.com/ChristopherArruda
Musical Sound in 4 words or Less:
• Honest, Raw, Beautiful, Emotive
Ideal performance setting:
• A theatre, somewhere quiet and intimate
What he'd call the phase he's in:
• Rediscovering who I am and what I came here for